This is a smooth pair of grips with a Ruger logo molded into the polymer. A medallion can be installed in this area to customize your grips. This grip was made from a mold of a current production "New Vaquero" but please don't rely on that for size, as there is considerable room for tolerances and variations in the model. Be sure to send a pencil tracing around your existing grips, to make certain of the exact size and shape for your particular gun. I can do this with any of the smooth Ruger grips, of course, not just the 142b.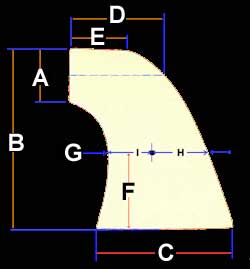 Here are the dimensions to compare with your gun:
Front top vertical section = 0.9 inches (A)
Overall height = 3.038 inches (B)
Width of base = 2.115 inches (C)
Distance from center of front to rear edge = 1.9 inches (D)
Width of flat across the top = 1.3 inches (E)
Height of screw hole = 1.7 inches (F)
Width across screw hole = 1.5 (G)
Rear edge to screw hole center = 0.6 (H)
Front edge to screw hole center = 0.9 (I)
Note: screw hole location can vary slightly without any problem fitting the grip, as there is plenty of room for the screw to clear the spring and frame.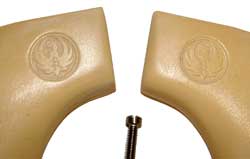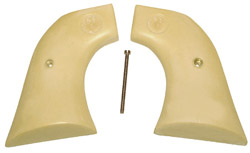 These grips were made using a combination of red and russett pearl, with the Navajo turquoise/silver medallions installed. I would call them "Southwest" style Ruger grips. If you would like a set such as this, order the red pearl but use the "note" section to mention the russet and red pearl combo. I can mix up any combination of pearl and metallic colors for special effects, no extra cost, but it's hard to predict exactly how they will look until the resins cure and the color sets up. These are cooked for an hour at 450 degrees F, during which time the color finally settles on its ultimate shade and the epoxy resin becomes very strong and tough.