This is a more or less universal size to fit the XR3/XR3RED frames, having extra material that you will need to sand to get a good fit, and leaving the backside flat so you can put the reinforcement relief (at the front top) where it needs to be after you've fit the top to your gun.

This grip is large enough so you could use it on the 22 caliber Single Six. I have another, smaller Single Six stag grip for either very old models or the 32 caliber small frame model, but of course if you want to sand enough, you can get this to fit a small frame.

Will this fit the New Vaquero, Old Vaquero, New Blackhawk, Old Blackhawk, Really Old Blackhawk, New Army, Cast Frame, Forged Frame, Warped Frame, etc? I don't really know the answer. You have the gun, so just do one of the following to get your answer:

As with any grip, if you can send a pencil tracing in the mail, it will help me make sure that your gun is going to work with these grips. Ruger has a LOT of different grip sizes, and this won't fit all the guns made in the past 50 years, for sure! Does not fit the Super Blackhawk, for instance. A pencil tracing will give me something to compare to my molds and maybe find a different grip that would fit better.

Or, you can just measure your grips and compare to the specs. That will pin down the basic sizes and help assure you of a good fit. You have to take your grips off eventually, so why not do it now and measure them? A little info is a lot better than a guess, and will save shipping costs sending things back and forth.

Please note that if your grip frame is shorter or smaller in any dimension, that is desirable! This material sands to shape and size easily with just a fingernail sanding board, which you can get at any cosmetics department or drug store. (Get one with two sides, medium and coarse: the coarse will help shape the grip quicker, and the medium will smooth the edges nicely).

If your grip frame is larger than these dimensions, then of course you can't sand ON additional material, as you can sand off extra material. If your gun grip frame is bigger, don't order these. If it is the same or smaller, great! It will fit (with a small amount of work on your part to get it exact, put in the pin locating hole and if needed, file or sand the relief angle at the top).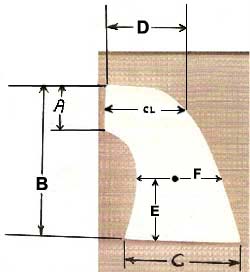 A (height of front at top)= 15/16 inch
B (overall height) = 3-1/16 inch
C (width across base) = 2-3/8 inch
D (center of front to rear edge) = 1-7/8 inch
E (height of screw hole) = 1-3/4 inch
F (width across screw hole) = 1-1/2 inch
Width of the flat, on top, about 1-3/16 inch
Width across screw hole, minimum, at an angle = 1-5/16 inch