This grip fits the XR3-RED grip frames used on many of the Vaqueros, Blackhawks, Old Army, and so forth. To find out if this grip will fit your gun, you have three ways:
Remove your current grips, and look on the frame for the molded-in code XR3-RED (not just the XR3 alone).
Remove your current grips, and measure them according to the below chart. If your grips are the same or smaller by a little bit, then these grips will work.
Remove your current grips, and make a pencil tracing around them. Mail the original (not a fax or photocopy) to Tombstone Gun Grips, PO Box 2171, White City, OR 97503. I will check and see which mold fits your grips.
Or you can order without checking, and I guarantee money back on the grips but not the shipping -- if you want to gamble on shipping cost alone, it's up to you. I've mentioned three good ways to eliminate the gamble. Although you are welcome to ask questions about it, I really can tell you nothing more. I don't know the obscure serial number/model year and grip frame combinations by heart and really, don't need to. One of the above works fine.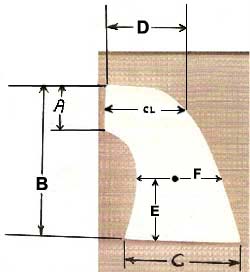 (A) top front edge height = 7/8 inch
(B) over-all height = 3-1/8 inch
(C) width of the base = 2-1/4 inch
(D) length of line joining midpoint of (A) to rear edge = 1-3/8 inch
(E) Height of screw hole center = 1-3/4 inch
(F) Screw hole center to either edge = 3/4 inch