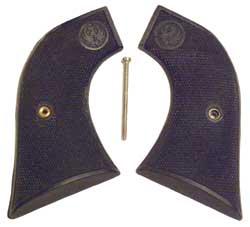 This is a finely checkered grip with a round Ruger logo molded in the polyurethane surface. It can be replaced by any of the smaller medallions (5/8 inch and smaller) if you would like a unique grip with, say, skull and crossbones or bucking bronco in pewter!

The grip as molded from an original Ruger grip, taken from a New Vaquero. But the dimensions may well fit your Blackhawk or Single Six, depending on exactly which frame it has, when it was made, what phase the moon was in when the casting was poured, etc.

Two ways you can tell whether it fits your gun or not:
Compare the measurements given below to your grips.
Make a pencil tracing around your grips and send them to me.
When I say "pencil tracing" I do not mean a photocopy, a fax, or an emailed image. The problem with those is the precision is simply not there to get accurate dimensions. A photo is nice to get a general idea of shape, but when you want to get a reasonable fit so you can adjust it to a perfect fit with gun in hand, a general shape isn't good enough. Mailing a pencil tracing does take a few days extra time, but how long has the gun been without the perfect set of custom grips so far? Those few days of transit time will mean the difference between getting a set that actually can be made to fit perfectly, and taking a chance that your measurements are not quite the same as the ones listed.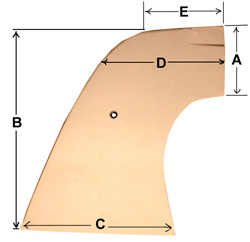 Front edge length (A) = 0.838/0.840 inches
Overall height (B) = 3.014 inches
Width across base (C) = 2.065 inches
Height of screw hole = 1.52 inches
Screw hole center to rear edge = .546/.547
Screw hole center to front edge = .821/.822
Front centerpoint to rear edge (D) = 1.728/1.730
Top flat length = 1.2 inches
Please Note:
The New Vaquero has at least two different shapes of frame, and I have no clue which shape or size your particular gun might have, unless you send a pencil tracing around your existing grip or grip frame. Telling me when your gun was made doesn't help: without a tracing, you must agree to accept the above dimensions whether or not they fit your particular New Vaquero. If you do not compare the specs with your gun, and do not make certain these dimensions are right for your gun, and just order it on luck and faith, good luck. If it doesn't fit, it can be returned at your expense, and replaced if you send the return shipping. Seems easier and cheaper to make sure, just take a minute to send the tracing, but it's up to you.