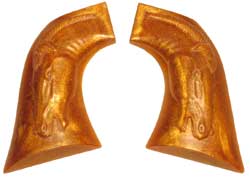 The horse head grips fill the palm and give your fingers a tactile reference, for a consistent grip. The high relief sculpture effect is classic Greek stone carving rendered in a modern material. The polyurethane epoxy resin which forms these grips has these characteristics:
Solid, not a skeletonized shell, for great strenth.
High material strength (3,100 psi tensile strength)
High temperature resistance (over 350-deg F)
Resistant to solvents such as alcohol, gasoline
These give you a grip that lasts much longer than the typical factory injection molded thermosetting plastics. The grip material used does not "melt" because it was formed from a chemical reaction of two liquids rather than simply melting, squeezing and cooling again. The material is too expensive for most high volume factory production, but by leaving the last 10% of the fitting to you, Tombstone Grips are available at less than half the cost of grips made of weaker material.

To see if these grips fit your gun, there are three things you can do:
First, remove your grips and then...
See if the code "XR3-RED" is molded in your gun frame.
Measure your grips and compare to the specs given here
If you still are not sure, make a pencil tracing around the grips and mail the original tracing to Tombstone Gun Grips, PO Box 2171, White City, OR 97503, along with at least two ways to reach you other than by phone (email, letter, fax). I will check the molds against your original drawing (not a fax!) and see if the fit is right.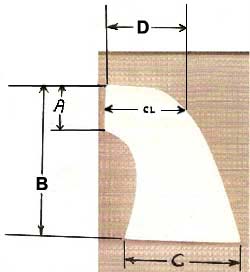 (A) front edge height = 7/8 inch
(B) over-all height = 3 inches
(C) base width = 2-1/8 inches
(D) midpoint of A to rear edge = 1-3/4 inches
(E) Top flat area length = 1=1/4 inch
(I know, there's no E in the diagram ... it's the top.)

Of course you can risk the postage if you want to order without checking, because I guarantee the grips to be satisfactory, and it's a money back guarantee except for the postage. But why not find out, first?

I can't tell you any more than is already above; the many variations in Ruger frames and even the shrinkage variations in the same models when the frame cools can make some differences no one can tell but you, the person with the gun and the ruler. That's why it doesn't really make good sense that anyone could sell a grip that will be a perfect fit out of the box, unless the gun they used for fitting is yours! A good gunsmith or stockmaker can do that. Mass produced grips? Read the quiet little lines about how you probably will have to do some fitting, even if you pay twice as much as the 90% finished Tombstone Grip kits. I sell them as kits, being honest about it. They need to be finished, and it's easy but expensive to pay someone else to do. Full instructions are on this website and sent with the grips.