The XR3-RED grips were used between 1972 - 2004 on the Blackhawk, Vaquero, Single Six, Old Army AND Super Blackhawk (with the 4 1/2" to 6 1/2" barrel).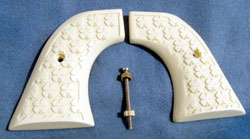 I'm showing these in IRISH GREEN just for fun, but you can order the shamrock patterned grips in any color, of course. These are unique, very unusual grips where the checkering is actually little shamrocks!

NOTE: These grips are not intended to fit the Super Blackhawk with the 7 to 10" barrel. They are too short and too narrow. Please see my separate grips for the Super Blackhawk with the longer barrel.

Mounting hardware is included and installed. Some sanding and fitting will be necessary to mate these grips to your individual firearm's frame.

Referencing the dimensional photo, the dimensions for this grip are: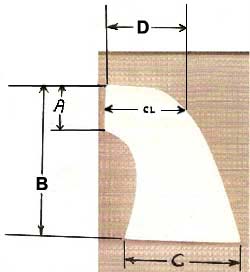 "A" = 7/8"
"B" = 3"
"C" = 2 1/8"
"D" = 1 3/4"