This checkered fancy border grip fits most Rugers with the code XR3 molded into the frame (you have to remove the grips to see it). The XR3-RED is a different shape.

The grips come with mounting hardware installed unless you select the "no screw hole" option, in which case I send the hardware but don't install it. If you are a good craftsman, you may prefer to drill your own mounting hole in the grips, because then you can "tweak" the location just a bit to make sure your particular gun aligns just right after you've sanded the grips to fit it.

And no, I can't make a different style of grip with this pattern on it without rather high cost, because the grips are molded, and the mold has to be an exact shape and pattern. Each mold is made by first building or buying an original set of grips as the pattern, and sometmes it takes 2 or 3 molds to get where the size and quality is just right. I do have a custom grip service listed if you are interested in creating a new grip using this or any other pattern.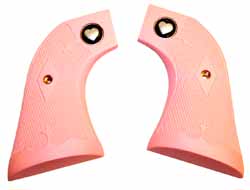 A client asked me to make a pair of light pink grips in the 111a mold and install silver heart medallions for his wife's guns. This came out so nicely that I want to show you, even if pink isn't exactly your favorite color for gun grips. Got an anniversary coming up? Mother's day? What says "I love you" like a new Ruger with custom pink grips?