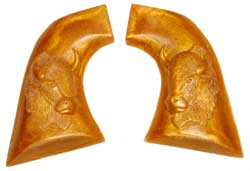 These grips are similar to the 118a Horse Head grips, although just very slightly larger in some dimensions. If the Horse Head fits, these can easily be sanded to fit, also.

To discover whether the Buffalo Head grips fit your Ruger single action revolver, remove your existing grips and then do one of these things:
See if the frame code XR3-RED is molded into the metal of your gun grip frame.
Measure your grips (from the flat back side) and compare to the dimensions in the list below (if your grip is smaller by a little bit, good! You want to have some room for fitting.)
If you are still not sure, make a pencil tracing around your grips and mail the original tracing, not a copy or fax, to Tombstone Gun Grips (address on opening page of site). I can cut out your drawing, make a template and actually see how it fits the mold. Be sure to give me at least two ways to contact you back, other than telephone (such as return mailing address, fax number, or email) and write clearly enough so I can read it, especially email address.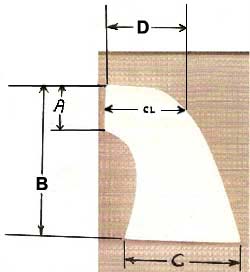 (A) front top edge = 7/8 inch
(B) over-all height = 3-1/16 inch
(C) base width = 2-1/4 inch
(D) midpoint of A to rear edge = 1-13/16 inch
(E) flat on the top = 1-3/8 inch
(I know, there is no E in the diagram, but you can figure it out.)