This is for the earlier "short grip" models such as the Chief Special, Kit Gun, some of the 38 Top Breaks, and similar models. I have a stag grip for modern J-frame round butt models also (slightly longer and wider).

Be SURE to check dimensions against YOUR gun! Do not order this grip if your gun has a longer frame! The size won't magically change when you open the box...it is what it says here.

To make sure of which grip fits your gun, send a pencil tracing around your existing grips.


Here are some of the old versions this grip fits:
Chief Special
32 Hand Ejector
38 Terrier
22/32 Kit Gun
38 Top Break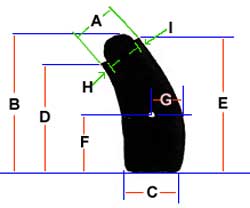 Dimensions:
(A) Width across top corners = 15/16 inch
(E) Height to top rear corner = 2-3/8 inch
(D) Height to top front corner = 1-7/8 inch
(C) Width across base = 1 inch
Width across screw hole = 1-1/8 inch