This grip is slightly larger than the No. 26 Stag or No. 27a Smooth (slight wood grain). It fits the later versions of the J-frame guns better in some cases. Here are the dimensions:
Height from middle of base 90 degrees straight up to rear corner tip (at top): 2-1/8 inch
Width across flat at base: 15/16 inch
Width across grip at screw hole: 1-1/8 inch
Height to center of screw hole from base: 1-1/8 inch
Height from base line (extended) 90 degrees straight up to front corner tip (at top): 2 inches
Distance across the base of the rounded top, from the start of each of the straight angled sections: 11/16 inch
Distance across the top about 3/4 inch below the corners: 7/8 inch
Height of rounded portion at the top: 1/4 inch (above rear top corner)
Width across the two top corners: 1 inch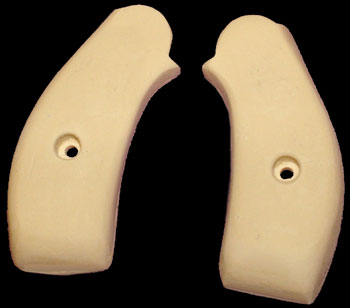 The auction includes two grip panels and standard mounting hardware, which is installed. You will need to do some sanding and fitting. These grips will not just drop on the frame, you must custom fit them.

The polyurethane can be carved, sanded, drilled and filed easily without chipping or cracking, and it is quite strong and heat resistant to about 350 degrees F, so you can leave the grips in the car on a summer day and they shouldn't warp.

Send a pencil tracing around your current grips so I can make sure these are the right size. I have other J-frame grips that are slightly smaller. Please note that I make flat back grips, as shown here, and not the wrap-over magna-style.