This is a grip for the early J-frame revolvers by Smith and Wesson, which use a somewhat shorter grip frame than the modern versions. It is for the round butt frame (which curves inward on the back strap at both the top and the base) as opposed to the square butt frame (which flares to a sharp corner at the base).

Be SURE to check dimensions against YOUR gun! Do not order this grip if your gun has a longer frame! The size won't magically change when you open the box... it is what it says here.

To make sure of which grip fits your gun, send a pencil tracing around your existing grips by placing them on a 3 x 5 index card and making a pencil outline with a sharp pointed pencil, and then marking the center hole.

If you wish to use grips that over-lay the top of the gun frame (Magna-style grips), don't order this set, which is the vintage rounded top look.


Here are some of the old versions this grip fits:
Chief Special
32 Hand Ejector
38 Terrier
22/32 Kit Gun
38 Top Break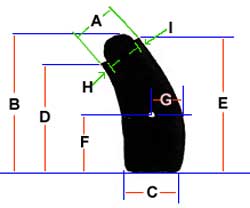 Size diagram Dimensions:
(A) Width across top corners = 15/16 inch
(E) Height to top rear corner = 2-3/8 inch
(D) Height to top front corner = 1-7/8 inch
(C) Width across base = 1 inch
Width across screw hole = 1-1/8 inch