This is a smooth round butt J-frame grip without mounting holes, made as a generic "kit" so you can fit it perfectly to your gun. Compare dimensions carefully with the same on your gun frame or grip to see if this is large enough (you can always sand it smaller, but not larger!)

If you want to make sure, send me a template or tracing and indicate the screw hole location on it. A template cut out of index card that fits your gun just like a grip back-side is perfect for matching to a grip.

If you would like for me to install the mounting screw kit, you can indicate above by checking the box. If so, it would be very helpful if you sent a template or tracing in the mail, with the screw hole location shown. I can mount it where most of the J-frames have the hole, but there are variations and tolerances...what works on my J-frame may or may not be right for yours. A tracing resolves that problem nicely.

If you do NOT want me to install the screw kit, indicate so above and I will send it uninstalled. You can then drill the holes where you want them (0.198 to 0.200 main hole, small hole to clear the screw threads). The material is easy to work, and doesn't crack and chip like wood or cheap injection molded thermosetting plastic grips.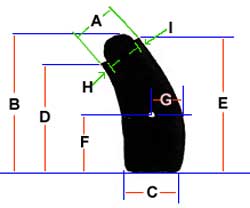 Grip dimensions:
Width across top ears (A) = 0.90 inches
Height of front ear (D) = 1.95 inches
Height of rear ear (E) = 2.55 inches
Width of front flat (H) = 0.15 inches
Width of rear flat (I) = 0.10 inches
Width across the base (C) = 0.90 inches
Width across widest part = 1.1 inches
Width across most narrow part = 0.8 inches
Height of rount top above line joining ears = 0.25 inch