This set of grips is for larger frame versions of the J-frame S&W Round butt revolvers, which is most of the modern versions. It is the "retro" or classic style with round top, rather than the "Magna" step-back (overlay at top) style, giving your gun a vintage look.

There are square butt J-frames, round butt short J-frames, and the larger round butt J-frames. Be SURE to compare the measurements before placing your order. I have both the small and the large frame grips, but you have to either send a tracing or compare specs with your gun to get the correct size.

Here are the dimensions: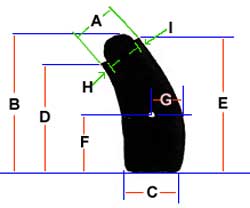 Overall height (B, E) = 2.7 inches
Height of front "ear" (D) = 2.05 inches
Width across top corners (A) = 1.1 inch
Front and rear steps (H, I) = 0.18 inches
Height of round top from line across corners = 0.35 inch
Width across based (C) = 1.2 inches
Height of screw hole center (F) = 1.25 inches
Width across screw hole center = 1.3 inches
Width across narrow part of the neck = 1.05 inches


Note that it is far easier to sand the edges down a little to fit your gun than it is to sand a smaller grip larger!