This grip is for a Merwin-Hulbert 32 top break revolver, but since so many similar guns were also made by Hopkins & Allen, Forehand & Wadsworth, and other firms merged, purchased, or associated with the H&A enterprise, the grip may also be used for a number of other brands and calibers.

Merwin-Hulbert (and formerly, Hulbert Brothers) was actually a distributor of firearms and hardware. They acquired a half interest in Hopkins & Allen, and had guns built by that firm with their own name applied. The most famous of the M&H revolvers are those of the twist-and-pull ejection system, but before these top quality guns were being made, a number of lower price revolvers both solid frame and break top design were sold with Merwin-Hulbert branding, though the actual designs may have been the same or very similar to another brand built by H&A.

I mention this because this grip may very well have been used on other guns originally, as well as the M&H. It certainly looks the same as one of my H&A grips, but is slightly different size -- so close that you have to measure and hold them against each other to tell any difference. So, be sure to send a tracing around your existing grip or a template made to fit your gun, or else measure and compare carefully: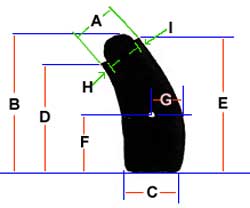 Width across top ears (A) = 0.95 inch
Overall height (B) = 2.4 inch
Width across the base (C) = 0.92 inch
Height of front "ear" (D) = 1.78 inch
Height of rear "ear" (E) = 2.4 inch
Height of screw hole center (F) = 0.95 inch
Width across screw hole center = 1.10 inch
Height of top dome above line between ears = 0.318 inch
Front step width (H) = 0.178 inch
Rear step width (I) = 0.178 inch
Width across the neck = 0.95 inch


The logo area on this grip is checkered, because Merwin- Hulbert and Hopkins & Allen could use the same inventory for different brands of guns, saving money over having to stock the same size of grip with a number of different logos. The checkerboard pattern uses larger size blocks than a similar H&A grip listed, but the difference is subtle.

You can order the grip with a medallion installed over the checkerboard area. The 1/2-inch medallions look and fit best. Examples are the Texas Star and the Gold Cross medallions.