This is a set of square butt, checkered grips from a mold made with original gutta-percha factory grips. The original grips were gently worn, lending character to the grips.

The circular area at the top can be used for a medallion up to 5/8-inch diameter. Larger diameter medallions would be too close to the edges to fit.

The grips are furnished with the No.4 grip screw kit installed by default. These checkered grips look good in ivory, gutta percha, amber or tortoise shell effect, or in the metallic pearl shades of copper, bronze, antique silver, or aztec gold.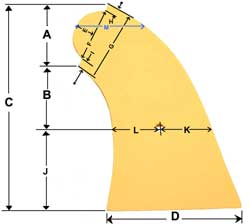 Grip dimensions:
Height from base to top rear corner (C) = 2.9 inch
Height from base to top front corner (B+J) = 2.25 inch
Width across top corners (G) = 1.15 inch
Width across base (D) = 1.8 inch
Height of screw hole (J) = 1.2 inch
Screw hole center to front edge (L) = 0.65 inch
Screw hole center to rear edge (K) = 0.68 inch
Height of round top from line joining corners (E) = 0.5 inch