This "bird's head" style grip fits the Pocket Army frame of the Merwin & Hulbert, which usually has the "skull crusher" projection at the base.

This grip is made from a mold taken from an original hard rubber set of grips. These Merwin & Hulbert original grips had the plain area at the top, without a logo (in case you feel that there should be a decoration similar to the Smith & Wesson, sorry, that's not how the original set was made!). However, if you wish to put any of the 5/8-inch or smaller medallions in this area, they will fit nicely.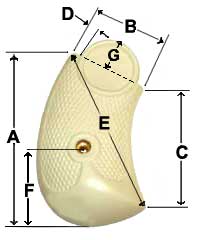 Height from base to rear top corner (A) = 2.5-in
Width across top corners (B) = 1.2-in
Distance from front top corner to peak of base (C) = 1.7-in
Width of step at top (D) = 0.15-in
Distance from top rear corner to peak of base (E) = 2.5-in
Height of screw hole center (F) = 1.05-in
Height of round top from corner to corner line (G) = 0.45-in
Thickness at thickest part of base = 0.485-in
Usually, a checkered grip is not recommended for pearl effects, since the swirls and patterns are not as visible as with a smooth surface. But if you select the amber, tortoise shell, or aztec gold effect, the light and dark streaks and patterns will look fine, very much like the old original gutta percha but with translucent effect.