This is a smooth version of the bird's head style Merwin & Hulbert checkered factory original Pocket Army grip, slightly thicker and larger for perfect fitting to modern replicas. It is recommended over the checkered grip for pearl and special metallic effects, since you can see the patterns better on a smooth surface.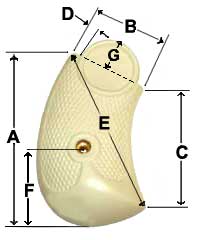 Base to top rear corner (A) = 2.55-inch
Width across top corners (B) = 1.2-inch
Base peak to top front corner (C) = 1.62-inch
Width of top step (D) = 0.12 inch
Top rear corner to base peak (E) = 2.5-inch
Height of screw hole center (F) = 1.05-inch
Height of top above corner to corner line (G) = 0.45-inch
Thickest part of base = 0.64-inch
Customize your Merwin & Hulbert with these slightly larger size grips, which offer a more hand-filling hold.