This grip fits several revolvers made by the Hopkins & Allen Company, including the early Merwin & Hulbert round butt spur trigger 2nd model pocket revolver, certain models of the Forehand and the Forehand & Wadsworth revolvers with the same size grip frame, and possibly other brands.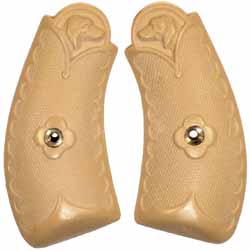 Since there is no brand logo other than a dog's head on the grips, and since Hopkins & Allen purchased or manufactured several brands of guns, you may find a large number of top break and solid frame revolvers which can use these same grips, and which may in fact have done so originally.

The brands produced by Hopkins and Allen included Merwin & Hulbert (which was a distributor but owned a 50% interest in H&A at one point), Forehand, Forehand & Wadsworth, and a vast array of "trade branded" models which were manufactured using H&A facilities and patents, but were marked with the name of the distributor (or any dealer placing a large enough order to warrant having their own brand on the guns).

This grip may in fact be considered a kind of "original generic", since so many variations of round butt revolvers made by H&A either originally used this design, or could use it as a replacement. Merwin & Hulbert usually did not have any logo on their grips. Most of the grips simply have a plain circle with a pebble or checkered pattern in it, and no indication of branding. Some of the Merwin & Hulbert revolvers are marked as "made by Hopkins & Allen" or say Hopkins and Allen on the barrel, while at the same time saying "Merwin & Hulbert" on the frame.

Here are the dimensions to compare with your gun frame: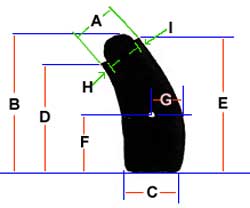 Width across top ears (A) = 0.9 inches
Overall height to base (B and E) = 2.38 inches
Width across flat part of base (C) = 0.9 inches
Width just above the flat base, widest section = 1.1 inches
Height to front ear from base (D) = 1.8 inches
Step width (H and I) = 0.1 inches
Height of round top above line between ears = 0.25 inches
Width across screw hole center parallel to base = 1.1 inches
Rear edge to screw hole center (G) = 0.55 inches
Height of screw hole center (F) = 1.1 inches
Narrowest part of upper grip area = 0.9 inches


Please be sure to measure carefully before ordering. If there is any doubt about the fit, send a tracing around your original grips, or make an index-card cut-out (template) which fits your gun like the grips, and mail that to me. If you do, be sure to check the box so I will wait for it to arrive.