The "Great Western" was a high quality US-made gun, distributed and promoted by Hy Hunter (a gun distributor) in California. The Hawes was a good quality German import private label made by J.P. Sauer & Sohn, also sold by Hy Hunter and others. There are some J.P. Sauer guns roll stamped with the "Hy Hunter" name, but the Great Westerns were not.

This and the 59a are similar grips, and may fit the same models made at different times with slight variations between their grip frames. Compare the dimensions given, measure your gun, and determine which grip fits your gun. I can't do that because I don't have your gun to measure. They are not "all the same" just because they have the same model stamped on the frame!

If you would like for me to determine the best fit, make a good tracing around a set of grips that does fit, or around the frame of the gun. A piece of 3 x 5 index card is ideal for this, as I can cut it out and use it as a template for checking the grip shape. Make sure it is accurate and fits on your gun just like you want the grip to fit. Mark the location of the screw hole. Then send the actual tracing to me, not a fax or email image which will not print out precisely enough, but a regular letter sent by post.

If you do that, you improve your chances of getting a grip that requires very little fitting work and is large enough to allow for a bit of custom fitting. If you don't, then what you see here is exactly what you get as far as dimensions. If it fits you gun, congratulate yourself on making good measurements and ordering the grip that allows for a bit of fitting.

(And if it doesn't fit your gun, and you order it anyway without sending a tracing, guess who gets to pay for shipping it back and for shipping a replacement grip! I have no idea why a person would NOT want to send a tracing to save themselves that cost and time, or why they sometimes order a grip that is obviously too small for their gun or even the wrong grip entirely, without bothering to read and compare measurements...but sometimes folks make that choice. I'll do whatever you indicate by your check in the box above that says you are, or are not, sending a tracing.)

Since the Hawes brand was made in Germany by the Sauer and Sohn gunmaking firm, this grip may also fit a number of other brands which were applied to the imports, or to the Sauer & Sohn brand grips themselves. The name or brand is far less important than the actual dimensions. There may well be some Rugers and Colts that could use this grip for all I know! The person with the gun is the one who has the answer, given the dimensions herein shown: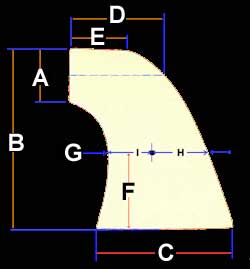 Front edge height (A) = 0.95 inches
Overall height (B) = 3.12 inches
Width of base (C) = 2.2 inches
Width one inch above the base = 1.5 inches
Thickness near the base = 0.68 inches
Distance from mid-point of A to rear edge (D) = 1.8 inches
Width of flat area at top (E) = 1.2 inches

Please note that this grip does not have a specific screw hole location, and that the hole can be put where you need it for your particular gun IF you send a tracing that shows the hole location. It can also be used as a 1-piece grip (with spacer) if you so choose. However, if you don't specify a location or send a tracing, and wish to order the (default) 2-piece screw mounted version, the hole will be approximately 1.48 inches from the base and approximately centered front to rear.