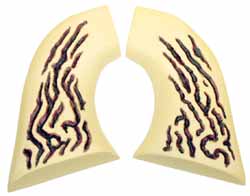 This grip originally was made to fit a slightly larger than normal Hawes Western Marshall revolver, but it also fits a number of other single actions made by Sauer & Sohn. It is slightly larger than most of the other similar grips, to allow for sanding to fit various frames.

Check the dimensions against your gun, and if this grip is the same or slightly larger, it will probably work. But to be sure, make a pencil tracing around your grip, or cut out an accurate stiff paper template to fit your gun. Send that to me in the mail (a picture or fax doesn't give true size). I can then make sure the grip is large enough so you can fit it perfectly. Otherwise, I have to assume you've determined the size is OK for your gun, since the same model might have different frame dimensions depending on when it was made and which importer commissioned it.

This grip can be provided in either a 2-piece screw mount style, or as a 3-piece kit (1-piece style after you fit the two panels and secure them together with the spacer).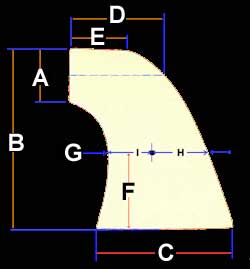 Overall height at rear edge (B) = 3.18 inches
Front edge length (A) = 1.06 inches
Width of base (C) = 2.28 inches
Width from centerline of front edge to rear edge (D) = 1.74 inch
Width of top flat(E) = 0.96 inch
Note: if you want screw holes and grip screws installed, please send a diagram or note the height of the hole, and the distance from the front and rear edge to the hole center. (In the absence of your diagram or hole location info, I will just use the stock Hawes grip I have on hand to determine where to put the hole, and assume that's OK with you! It probably will fit your gun...but it may put the screw too close to the hammer spring in a few guns. A tracing with screw hole indicated eliminates this kind of problem!)