This one piece grip set is shipped as a 3-piece kit, with two panels and a spacer. The left and right grip panel are first sanded to fit your gun exactly, and then the spacer block is sanded to fit inside the frame. The block is secured to the back of one grip while the grip is aligned with the gun frame, using a film of 5-minute epoxy. When the epoxy cures, the spacer is sanded to the exact thickness of your grip frame. Then the other panel is secured with epoxy. This produces a 1 piece grip for frames which have removable back strap.

If you have a solid grip frame revolver, but it would work with the left and right grip panels, check the option to install a grip screw kit (2-piece grip kit). Be sure to send a tracing with the hole location indicated (so the screw won't interfere with the main or hammer spring). If you don't have original grips, make a stiff paper template that fits just like the grips should. Be sure to check the hole location with the hammer cocked and with it released or down, because the spring will move.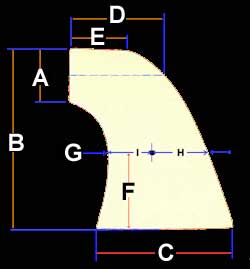 Grip dimensions:
(A) Front edge height = 1.07 inch
(B) Overall height at front edge = 3.12 inch
(B) Overall height at rear of top flat = 3.014 inch
(C) Width across the base = 2.176 inch
(D) Center of front edge to rear edge = 1.92 inch
(E) Flat on top = 1.31 inch
NOTE: Be sure to send a tracing or template that shows the grip screw hole location IF you check the 2-piece grip option (screw mount).