This is the smooth, Sauer & Sohn Single Six 44 Single Action revolver grip, but it very likely fits a number of other guns: compare the dimensions with your gun to find out. Sauer & Sohn made a large number of import brands for US distributors, sold under other names as well as their own.

This grip is supplied by default as a 3-piece kit (to assemble into a 1-piece grip) but you can order it with screw mount. If you want to order it without holes, but with screws, please write a brief note to that effect. If you do want screw mounting, please send me a tracing with the location of the screw indicated. Otherwise, I don't know where your gun will need the screw to be in order to miss the frame or hammer spring, and all I can do is put the hole where the Hawes or typical Sauer & Sohn single action might have it... which may or may not be right for your particular gun even if it has the same model name.

It is always a better idea to send a template or tracing than to order by model only, since manufacturers often have changes to the same model that affect the grip size or shape. Second best is to just compare the measurements with your gun and decide whether or not it will work.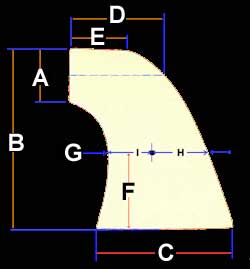 Front top edge (A) = 1.055 inches
Overall height (B) at front edge = 3.34 inches
Overall height (B) at rear edge = 3.1 inches
Width across the base (C) = 2.04 inches
Width from front edge midpoint to rear edge (D) = 1.7 inches
Width of top flat area (E) = 1 inch