This is a staghorn version of the Hy Hunter Western 6-Shooter grip. Hy Hunter guns were primarily made by Herbert Schmidt (Germany) and are grouped with the "Hawes" category because Hawes, Hy Hunter, and a number of other brands of imported firearms similar to the Hawes line were built by J.P. Sauer & Sohn, or by Hertert Schmidt, and imported from Germany. (Besides which, a label saying "Hawes" is a lot shorter than one which says all the various names by all the German producers and all the US trade names.)

The dimensions for this grip are listed below, and should be carefully compared to your own gun. Never order just because the name is the same as your gun. There are far too many versions, variations, production changes, and so forth, which result in slightly different shapes and sizes for the grips, even for the same model.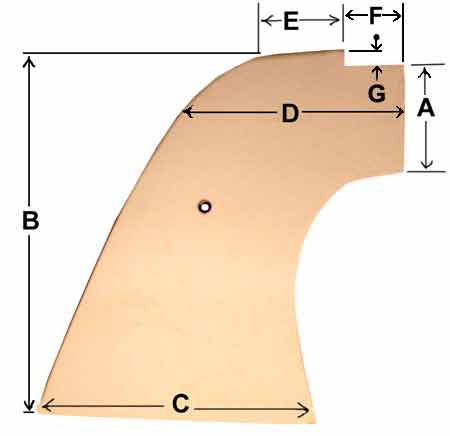 Front edge length (A) = 1.0 inch
Overall height (B) = 3.14 inch
Width of base (C) = 2.066 inch
Center of front edge to rear edge (D) = 1.61 inch
Top flat length (E) = 0.67 inch
Length of notch (F) = 0.2865 inch
Height of screw hole center = 1.47 inch
Width across center of screw hole = 1.45 inch
Front edge to screw hole center = 0.768 inch
Thickness at the base area = 0.57 inch
Thickness at top = 0.34 inch
Depending on your particular gun, you may want to gently cut a relief at the top edge using a hand-held rotary tool such as the "Moto-tool". If you do, be sure to clamp the grip panel in a padded vise or screw it to a scrap board which can be clamped to a solid work surface. Mark the outline of the area you want to remove with a pencil, and hold the tool securely so the bit doesn't grab and jump around. If you use an abrasive bur rather than a mill-like cutter, it greatly reduces this tendency.

This grip can also be ordered as a 1-piece kit (spacer and two panels, instead of a mounting screw) if your gun uses a removable back strap like the original Colt 1873 Peacemaker and you prefer the screwless mounting.