The Texas Star is made of high quality coin silver with gold plated star, engraved around the perimeter of the ring, and pierced between star points. The diameter of this medallion is .7560 to .7575 inches. It is too large for some revolver grips.

The Texas Star looks especially nice in a 1911 style grip. The edges are mounted below surface so they do not catch on clothing. Order on the same page as the grips if you wish to have them installed.

You can purchase the star separately, for mounting in your own grips. If you purchase here, rather than with the grips, they will be sent unmounted.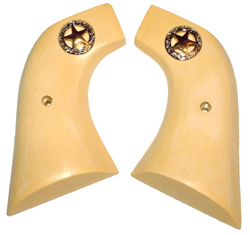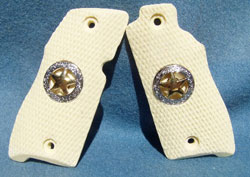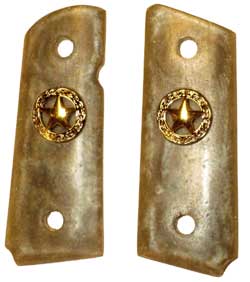 If you have a specific location in mind, be sure to send a note to tell us where you want to put the star. Better yet send a tracing of your grip and indicate the center location for the star. Otherwise we will normally put it in the location of the factory logo medallion, if one is used, or near the top of the grip for smooth plain grips or those which have a flat area at the top. On 1911 grips we put the star in the center for compact grips and those with a triple diamond pattern, and in the logo position about 1/3 of the grip height from the top on other 1911 style grips. If there is a molded in logo of the same size, we place the medallion over this area to replace the logo.