This is the same size as the IJ_149b but has the owl head facing out, rather than forward. This grip was used on later model, smokeless versions of the top break revolver. The grips normally come with installed 2-56 grip screw kit.

Although these normally are found on the 32 frame guns, Iver Johnson built some guns on the 38 frame and used 32 barrels and cylinders, and vice versa. In order to be absolutely sure of the fit, you should make a template from stiff paper, cut to fit your gun. Or make a pencil tracing around the existing grips. Send this to me by mail (not a fax or email photo, which doesn't give actual size) and I can make sure you get the right size.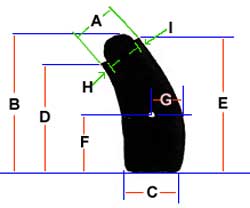 Dimensions:
"A" = .85 inches
"B" = 2.34 inches
"C" = .93 inches
"D" = 1.7 inches
"E" = 2.34 inches
"F" = 1.08 inches
"G" = .476 inches
"H" = .125 inches
"I" = .125 inches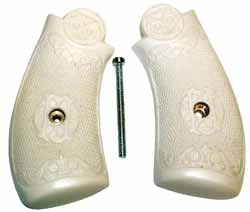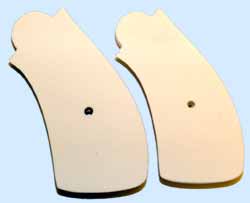 The 38 and 32 size are shown here. They are very close, but just different enough so they won't fit properly on the wrong frame. Caliber alone might not be enough to tell what size grip you need, since some 32's were built on 38 frames, and later, some 38's used the stronger smokeless powder frames built for 32's.