This is a smooth, two-piece screw mounted single action grip for a Herbert Schmidt "Dakota Deputy" revolver. It is similar to the style of the Heritage and the Frontier Scout styles with a notch at the top. But be sure to compare measurements with your gun, and if there is any doubt about the size or shape, make a pencil tracing around your grips on a 3 x 5 index card. Poke the screw through the screw hole to mark the location of the hole on the card. Make one tracing for each grip, on separate cards so I can cut them out and use them for templates.

If you send me these tracings, then I can determine for sure if these grips are large enough to allow fitting to your gun (assuming the tracings are the right size or just a pencil width larger).

Here are the grip dimensions: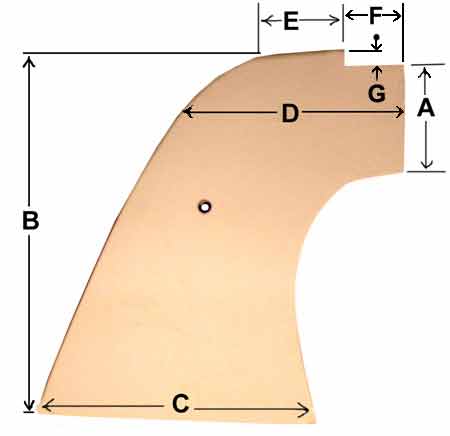 Top front edge (A) = 0.9 inches
Top flat up to notch (E) = 3.0 inches
Width across base (C) = 2.18 inches
Line from center of front edge to rear edge (D) = 1.6 inches
Length of top notch (F)= 0.5 inches
Height of top notch (G) = 0.15 inches
Height from top to base (B) = 3.15 inches
Width across screw hole = 1.55 inches
Height of screw hole center = 1.6 inches
Screw hole center to front edge = 0.8 inches

This grip is patterned from a Jay Scott no.56, for the H. Schmidt 22LR Dakota Deputy, but it may fit other models and imports marketed under other brand names but made by the same firm.