This is a stag horn style single action grip for Heritage Rough Rider revolvers and others using a similar grip design. The grips can be ordered as 2-piece (left and right panel, with a mounting screw) or 1-piece kit (left, right, and spacer, which you fit and epoxy together as a one-piece grip. Check the option you want.

This grip is, essentially, the same or very similar to the no. 154a smooth Heritage grip, but with staghorn pattern.

Note that 1-piece grips don't work on guns which have a solid non-removable back strap. Guns designed like the original Colt 1873 with a separate, removable back strap and base section, screwed to the rest of the frame, can use either 1-piece kits or 2-piece screw mount grips. Guns with a solid grip frame, similar to Ruger single actions and many later production Colt clones, have no way to install a 1-piece grip and must use the 2-piece style with screw.

Here are the grip dimensions. Be sure to compare to your gun rather than just ordering by name alone, since there are many variations in side for the same basic make and model.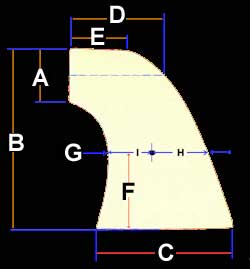 Over-all height (B) = 2.2 inches
Front edge (A) = 1.1 inches
Base width (C) = 2.4 inches
Mid-point of front edge to rear (D) = 1.7 inches
Notch depth = .1 inches
Notch length = 0.55 inches
Distance across the neck at narrowest point = 1.4 inches
Note: be sure to send a tracing with the screw hole location indicated, if you want to make sure the screw hole will miss the hammer spring in your gun. Look on the main web page for a link to a page about making tracings.