Smooth grips for the Heritage Rough Rider: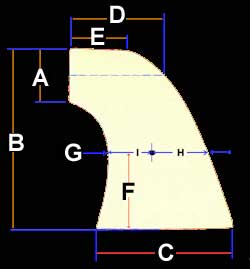 (A)Front height = 1.1 inches
(B)Overall height = 3.3 inches
(C)Base Width = 2.4 inches
(D)Front midpoint to rear edge = 1.6 inches
Length of notch at top = .55 inches
Depth of notch at top = 0.05 inches
Width at 1.5 inches from base = 1.6 inches
Thickness at base midpoint = 0.65 inches
Thickness at top = 0.40 inches
This smooth set of grips is available either as a 3-piece kit (to make 1-piece Colt style grips, held on by a removable back strap) or 2-piece screw-mounted pair.

If you order the 2-piece screw mounted style, the screw and mounting comes with the grips and will be installed unless you request otherwise. If you select 2-piece mounting with screw, and then check "send screw kit uninstalled" I will send you the screws without making the holes or installing the ferrule and nut.

If you should select 1-piece kit with spacer, instead of the screw mount 2-piece kit, I will send you the two panels and the spacer, so you can fit them to the gun. No holes will be made in the grips and no screw provided. Whatever you check on the screw install or not install doesn't matter, as there is no screw with the 1-piece kit.

In other words, whatever you select near the top of the list overrides any contradiction picked lower in the list.

If you want the screw kit installed, on the 2-piece screw mounted version, then you need to send a tracing with the screw hole location indicated accurately. This can vary with different years of production and models. Usually the standard SAA Colt location works, but if you don't send me a tracing and I have to guess, I'll have to use the location that works most of the time with most guns...no guarantee that it will work with your particular gun since I have no clue if your gun is the same as the ones I've fitted before or not! Send the tracing, save the hassle of sending it back with $8 shipping for a replacement! (That said, 90% of the time the standard hole pattern works. You can gamble with your money on the 10% chance that your gun has a mainspring located right where the hole normally goes, if you wish. Up to you. Don't yell at me if that happens and you didn't send a tracing, though!)

If you send a pencil tracing, please don't send it by fax or send a photocopy of it! Those methods can distort the image and are not very useful. The original pencil tracing on paper, sent by mail, is what really helps get the size correct for your particular gun.

These grips can be used for a variety of other guns, as they are taller in the top portion than most of the Colt Single Action grips and just about the same otherwise. It is not much of a job to remove material. Beats putting it back on! Therefore, if you have a gun with grips that are just a little bigger than most of the other Colt styled Single Actions in the upper section, this set of grips may well do the job with a little fitting and shaping.

One of the guns on which these grips may also work is the Colt Frontier Scout (or any of the "Scout" models which have the notched top section). Some have smaller frames. There are other Fronter Scount grips here, which may fit them better.