The Harrington and Richardson 999 Sportsman is a large grip for the square butt framed Sportsman revolver. You can order it with a single No.4 screw mount (nut and ferrule installed in grips), or with two holes for 6-32 oval head 1/2 inch long screws, which thread into holes in the frame. If your gun uses neither of these mounting methods, use the "NOTE" to explain exactly what mounting is used with yours, and send a tracing with the hole location, screw size, head size and shape, or just let me know you'd like to handle the screw holes yourself instead of having me make them!

The grip has the following dimensions:
Width at top, across corners of the swell = 1.325 inche
Width below top across narrow neck = 1.05 inches
Width across the screw hole = 1.35 inches
Width at the base = 1.8 inches
Height of screw hole center from base = 1.35 inches
Height of front corner to base = 2.9 inches
Height of rear corner to base = 3.55 inches
Maximum height at top = 3.6 inches
Height of top to line drawn across top corners = .3 inches
Screw hole center, from back of grip = 0.7 inches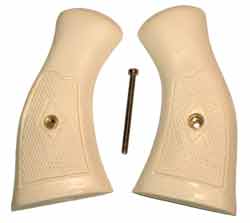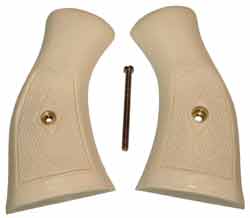 Here are the grips in the amber burl effect with bronze stars, and in the russet pearl effect with 5/8-inch elk medallions...