This is similar to the 94b Steer Head set, except it is smooth. You can order it as a 2-piece or a 3-piece set. The 2-piece set uses a screw mounting (which is installed and comes with the grip). The 3-piece uses a spacer block so you can assemble a one-piece grip, held on by backstrap rather than a screw. Instructions comes with the grips.

IMPORTANT:
Be sure to check the dimensions against your gun frame. There are a lot of different shapes and sizes of the Colt SAA clones! If you send me a pencil tracing around the outline of your grips, or make a thin cardboard template that fits the gun just like the grips would, then I can be responsible to make sure what you order fits that template or tracing size. Otherwise, it is up to you to check the dimensions and make sure what you order is what your gun actually fits.

What I need is the exact shape and size. A photocopy or a picture doesn't give me the dimensions to a close enough tolerance to be of any use. Only an actual tracing or cut out template, sent by mail, will be accurate enough.

If you don't change the options, you will be ordering the 2-pc set with screw mounting. To get the 3-piece kit (1-pc grip is made from it), change the option for mounting.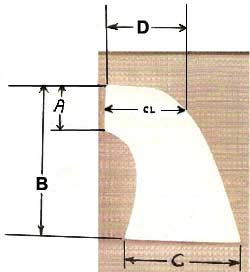 Width across top = 1 inch (flat area on top)
Height of top vertical = 15/16-inch (A)
Over-all height = 3 inch (B)
Width across base = 2-1/4 inch (C)
Distance from middle of front straight to back edge = 1-5/8 inch (D)