This is for left-handed shooters, for standard or full-sized 1911 Colt pistols and copies only. It has a sculpted contour to settle your hand in the same position every time, and is a little larger and thicker than a normal carry grip. Yet, the finger grooves, thumb rest, and trigger finger groove are not so radical as to be unusable by a right-handed shooter.

The grip is also suitable for a carry gun, as it does not have as much side projection as a palm-rest style "Bullseye" only grip and fits most holsters without a problem. The sculpted surface helps you get on target and hold onto the gun, and lack of checkering makes it easy to clean if dropped in the mud or worse.

Here's a little secret about smooth surfaced grips: after you've used the gun a lot, a checkered grip usually will show some dings, worn checkering points, and scratching that require re-checkering to restore. That's a lot of work and requires the right tools. You have to cut away enough of the worn or damaged surface to remove any dings and that means all the checkering in that section must be carefully cut deeper. But a smooth grip? No problem! Just wrap a little 220 or 320 grit sandpaper on a dowel and sand away the dinged area, feather it back to the countour around it, sand with a couple of grades of finer grit, buff and wax, and in a few minutes your grip is good as new!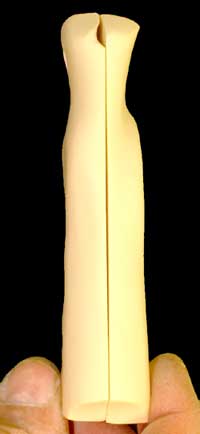 The hole spacing is how you can tell if the grip will work on your gun (if you are not sure if your gun is a full size standard government-spec style in regard to the grip mounting and size). The hole spacing is 3-1/16 inches center to center, and the grip over-all height is about 4 inches.

If you measure between the screw centers, or from the same edge on each hole, and you get different measurements, or if your gun does not use a standard 1/4-inch diameter stud mounting with a 0.150-in diameter screw in the center, and a screw head that fits closely into about 0.280-inch hole, then guess what? --you don't have a standard 1911 Colt style design, and these grips won't fit. Otherwise, you do.

It doesn't matter if your gun says "Taurus", "Kimber", "Colt", or some other name, so long as the hole spacing is just as described above, and the gun uses the G.I. stud mount as described. There are many other guns that look like a 1911 Colt, and are patterned after it, but don't use the same kind of hole spacing or grip mounting: some versions of the Llama, Star, and Ballister-Molina (and other less known South American and Spanish brands as well) use a direct threaded hole mounting into the grip frame and usually also have different hole spacing.

You don't need to write and ask if these grips fit your gun: just whip out the old ruler, and measure the distance between the hole centers, and observe if your gun has two little 1/4-inch studs sticking out for each grip. If not, it won't fit. If so, it either fits directly or is easily modified for clearance of a right-side thumb safety (just use a Dremel tool and cut away the top back area so an "ambi" safety lever will work, if you have one).

Most sculpted target grips don't have a flat enough area anywhere on them to mount medallions. But these grips were made with a subtle curve to a small flat area on both sides, below the finger groove and thumb rest: you CAN have medallions mounted. The 5/8-inch and smaller sizes look best, but the 3/4-inch ones will work.