This is a set of smooth, hand-filling grips for the Colt Pocket 9, a 9mm pocket pistol no longer produced (about 6000 were made).

The grips are attached with two screws per panel, which are the factory oval head screws. Someone who owns this pistol told me they used 6-32 oval heads but I believe you would have to re-drill and tap the frame to do that. In any case, the screws appear to be about No.5 size but I'm not sure what thread -- use the factory screws!

These grips are subtly contoured, not actual finger grooves or thumb rest, but just a hint of them to help your "muscle memory" get the same grip each time. In a small gun, a little thicker grip feels better even with the 9mm, spreading recoil over a little more area of your hand instead of concentrating it in a narrow band.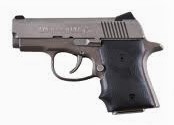 Here are the grip dimensions:
Left Grip:
Width across top = 1.7 inches
Width across base = 1.72 inches
Front edge (below top notch) = 2.6 inches
Overall height = 2.9 inches
Top edge to top screw hole center = .75 inch
Bottom edge to bottom screw hole center = .5 inch
Right Grip:
Width across top = 1.85 inch
Width across bottom = 1.7 inch
Overall height = 2.9 inches
Screw holes = same as other grip