This grip kit is for various D-model Colt revolvers that use the same grip size as the Official Police, the Trooper, the Python, and a myriad of guns using the same basic grip frame. Be careful to compare the dimensions of your gun with the specs listed here.

There are a lot of slightly different sizes and shapes even in the same model line, since the production covers a very long time period. Tolerances, replacement tooling, production modifications, and other factors may have resulted in YOUR gun having a somewhat different grip frame shape or size compared to the one I used to make the mold for this model of grip!

If you can send a tracing of your grips, assuming they fit your gun now, it will greatly assist in making sure the grips you order are correct for your gun.

The staghorn pattern on these grips is a different one from the pattern used on Colt_49a, which is a 1950's pattern from a once-famous, now-defunct after-market grip company. The Colt_82c is a hand-carved Tombstone original, since folks have different tastes in staghorn!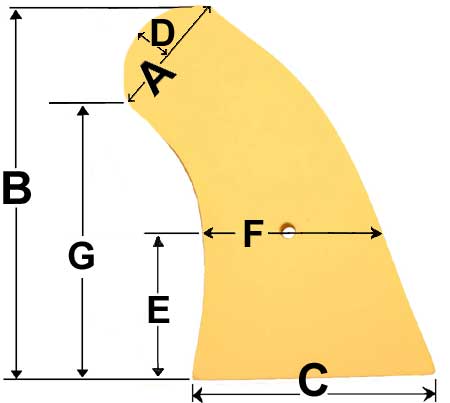 Grip dimensions:
Overall height (B) = 3.25 inches
Height to front radius start (G) = 2.2 inches
Width across base (C) = 1.9 inches
Width across top (A) = 1.25 inches
Height of screw hole center (E) = 1.3 inches
Width across screw hole center (F) = 1.55 inches