This is a smooth, thicker version of the Colt Mustang grip. It provides a more hand-filling hold than the standard thinner factory grip, and looks great with pearl, amber, walnut burl, opal and other translucent effects.

The grip was patterned after a modern (2012) production model of the Mustang Pocketlight. It may fit other versions, but the only way to make sure is to send a tracing drawn around your existing grips on a 3 x 5 index card with the screw holes accurately marked. There are tolerances and variations in the same model of most guns, especially those which are not standard military issue. Whereas a 1911 Colt uses the same screw size, it is highly specified and standardized for grip screw location. Civilian models tend to vary with time, replacement production fixtures, little tweaks in the design, and just plain old manufacturing tolerances. Want to get it right the first time? A tracing can save the day.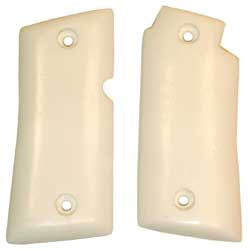 This grip is especially good for medallions, pearl effects, and for people who have some scrimshaw or carving skills to apply. The material is easier to carve than wood, bone, or ivory and has no grain to split or chip.

I like a somewhat thicker grip on a small gun, and don't think it makes much different at all to the "print" of the gun through concealment clothing. But if you want the absolute thinnest grip that still works, choose the checkered one instead. This grip has just a bit of a contour to help you control the gun instinctively.

Grip Dimensions:
Left Grip:
Front edge (straight portion) = 2.6 inches
Rear edge to top notch = 2.385 inches
Height top to bottom through screw hole centers = 2.91 inches
Width of top edge = 0.889 inches
Width of bottom edge = 1.358 inches
Hole spacing center to center = 2.178 inches
Center of bottom hole to base edge = 0.4125 inches
Right Grip:
Front edge = 2.95 inches
Rear edge = 2.86 inches
Top edge to top hole center = 0.3565 inches
Top edge width = 1.26 inches
Top edge to center of magazine release notch = 1.065 inches
Width of bottom edge = 1.358 inches
Bottom hole center to bottom edge = 0.4125 inches
Thickness of grip at bottom area = 0.26 inches
Thickness of grip at top area = 0.23 inches
Grip width at 1.4 inches from base = 1.247 inches
Hole spacing center to center = 2.178 inches


Screw holes are the same as the outside of a standard 1911 Colt (.280 head diameter, .150 shank hole) but the grips are flat on the back, without the 0.250-inch mounting stud hole found on the service pistol.