This grip kit includes a spacer block which you can use to fill in below the gun butt, and use these grips on a small frame Cobra or similar "Detective Special" style. Colt made several different sizes and shapes of grip frames using the same basic model of gun, so the only way to know for sure if you would need to fit a spacer between the grip panels is to send a tracing or compare measurements.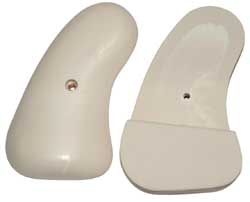 Grip Measurements
Overall height = 3.138 inch
Width across top = 2.08 inch
Width across screw hole = 1.50 inch
Width across base (widest part) = 1.916 inch
Height of screw hole from base = 1.58 inch
Hole center to front edge = 0.68 inch
The grips are large and rounded, just like some of the original Cobra grips of the "oversized" style. The grips are larger than the metal frame of the gun, usually. Depends on the particular gun frame. But if so, just hold the grips up to the frame, fit the top snugly, and use a pencil to mark the outline of the frame on the back of the grip.

Then, align the bottom of the spacer block with the bottom of the grip, and mark the area to cut away to clear the frame, leaving front and back projections to blend into the outline of the frame.

The block is secured to one panel using ordinary 5-minute epoxy glue, found at nearly all hardware and hobby stores. Once the block has been cut so it will allow the grip to fit on the gun, then glued in place on one grip, the grip and block can be sanded so they look like one piece.

The grips are then mounted on the gun (marking and drilling the shallow alignment pin hole). With both grip panels solidly in place, you can sand the second panel and block edge to blend together. To make the base area even more solid when assembled on the gun, drill two shallow blind holes in the spacer and press small roll pins or dowel pins of 1/8 to 3/16 inch diameter into the holes, leaving 1/8 to 3/16 inch of the pin sticking up. Put Magic Marker ink on the end of the pins, press the other grip panel in place, then remove it and drill shallow holes to match the marks produced on the surface. Now the base will be firmly pinned in place, while allowing the grips to be removed easily.