These grips are made larger in height and width than the standard factory grip, so you can leave the bottom flat or carve finger grooves, etc., to suit yourself. They may fit many other brands that use grips similar to the 1911, but you will need to check the dimensions or send a tracing to make sure. I have no way to know if these fit some specific model unless it is exactly like a 1911 colt, but since you have the gun, you can measure it.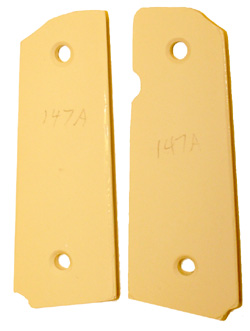 They can be used "as is" with minimal fitting, or can be the start of a scrimshaw or carving project. Also, some particular models of newer 1911-style pistols can use a larger (wider, longer) grip, and even the originals may benefit from covering the edges of pitted or worn areas that were exposed with the original grips.

Grip specs:
Overall grip height through center: 4.25 inches
Width of base not including notch: 1.4 inches
Width through bottom screw hole: 1.6 inches
Spacing from bottom screw hole to front edge: .85 inches
Spacing from top screw hole to front edge: .65 inches
Spacing between screw holes: 3.02 inches
Distance from top edge to top screw hole center: 0.6 inches
Note: both panels are similar size and shape, so you can use them with the "ambi" left and right hand safety. You may need to route or sand the top to allow for various safety levers, etc., but there is plenty of room to do so.