This is a checkered Colt 1903 pocket auto (.380 ACP or .32 ACP caliber) grip made from original wood checkered grips taken from a 1938 vintage pistol.

The grips come with two spacer panels that you fit to the cut-out in the pistol frame, to keep the grip from rotating about the screw, and then epoxy glue to the back of the grip. The grips include a 2-56 stainless steel mounting screw and brass ferrule and nut installed, unless you check the box to simply send them uninstalled (up to you, but there's not much point in doing that usually).

These grips can be made with solid colors or with the pearl effects, but usually they look better with just the solid color (being checkered, the surface obscures the fancy pattern and depth of a translucent pearl).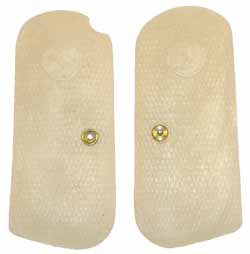 Shown here is the grip with white pearl effect. You can see that while it is attractive, it does not display the same depth as it might on a smooth grip.