This grip fits a number of different Colt double actions based on the Official Police larger frame, including the Python. Be sure to check the dimensions before you order, however...there are considerable variations in the same model names.

To make absolutely sure of the size, make a pencil tracing around your grips (or an index-card template cut to fit the gun just like the grips would) and mail that to me. I can then compare it to the various molds and try to find one that looks like this one but has the proper size for your gun.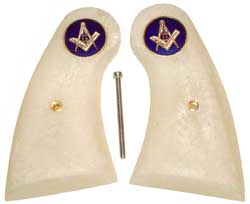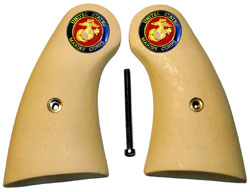 Grip Dimensions:
Height from base line to top = 3.125 inches (3-1/8)
Width across the base = 2 inches
Height from base to top, rear "corner" where curve changes = 3 inches
Width across "corners" at the top = 1.12 inches
Height from base to front "corner" = 2.5 inches
Width across grip at narrowest point = 1.2 inches
Note: this grip has a rounded top with no "ears", but instead the domed top meets the curve of the front and back and forms a little peak or corner. Measurements are taken at exactly 90 degrees from the extended base line up to these two corners.