The Colt 1851 Navy .36 caliber cap and ball pistol grip also has enough additional material to be used on the Cimmaron "P" model, the EMF 1873 357 Magnum, and certain other Colt clones. Most of these other guns have smaller grips, so that you will need to use a 3/4-inch dowel wrapped with some 220 grit sandpaper to reduce the inside curve, or a medium grit fingernail sanding stick to reduce the rear edge.

Or you can select the 2-piece set with mounting screw if you prefer. This works whether the frame has a removable backstrap or not. The 1-piece grip (3-piece kit) only works if the backstrap is removable.

Please Note:
There are as many shapes and sizes for the 1851 Navy as there are clones and originals combined. There is NO WAY that I can guarantee this grip, or any single action grip for that matter, will fit your gun UNLESS you send me a tracing, a template, or the grips that fit it now. I'd rather have a cut-out template made of stiff paper than anything, but a tracing is fine if you make it accurately.

I understand and count on the fact that when you trace around the outline of a grip, the line will be a little wider than the actual grip. Tombstone Grip Kits are supposed to be slightly larger than your gun's frame so you can accurately fit them to the frame with a little light sanding. It is more difficult to trace around a 1-piece grip outline than it might be just to hold a piece of stiff paper up to the gun frame, trace around the frame, and cut out the template. Then trim it up so it is exactly the size that your grips should be. I'll make sure that I send grips that are at least that large, or slightly larger. Otherwise, without this, I just have to go by the size listed here and send you what you actually order, since there's no way to determine if it is too small or way too large or the wrong shape. That will have to be determined by you (unless you send a tracing or template, of course).

Some of the guns with smaller grips also have longer top portions or wider bases. Any grip that fits within the outline and is thus smaller in size can be duplicated by sanding down this grip. It is somewhat of a universal replacement, for 1-piece Colt clones of various sizes. But be sure to check the dimensions carefully before you order:
Front vertical edge (A) = 1-1/16 inch
Overall height (B) = 3-1/8 inch
Width of base (C) 2-3/16 inch
Midpoint of A to rear edge (D) = 2 inches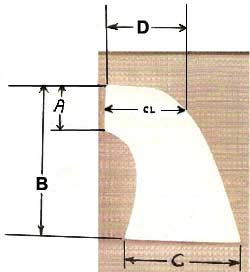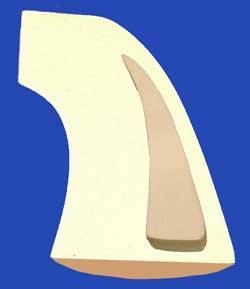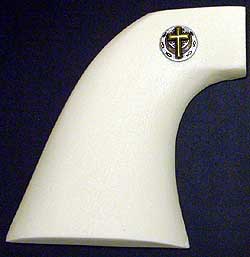 The 1-piece grip assembly is created when you have fitted each panel to the gun, and the spacer to the inside of the frame. One panel is taped in place, and the spacer glued to it with a bit of 5-minute epoxy. After it has cured, the other grip panel is epoxied to the spacer. The gun frame should be coated with a film of vasoline to prevent any surplus epoxy from sticking to it.