These are for FULL SIZE FRAME 1911 Colt and Colt Clones of all brands. The easy way to tell if these fit your gun is to measure the distance between the mounting screw centers. The hole spacing is 3-1/16 inches center to center, and the grip over-all height is about 4 inches. The bottom hole is about 7/16 from the base, and the top hole is about 1/2 inch from the top (to center of hole).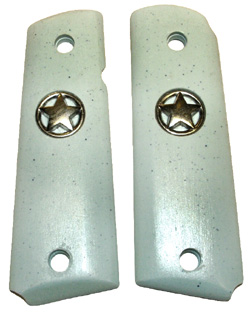 If your gun has any other measurement between the screw hole centers (outside of about 1/32 inch tolerance) then you do NOT have a 1911 full size original or copy! There are MANY guns that look like a 1911 Colt, but are not exact copies. There are also countless brands other than Colt which offer guns that accept standard military size 1911 Colt grips. Any of those will work with this, but with a few you might have to make a little simple relief for an ambidextrous safety on the right grip. The Taurus 1911 comes to mind -- it takes normal 1911 grips, but the "Ambi" safety lever needs clearance. Use a Dremel or other rotary bit tool to relieve the back of the grip to clear this part. It's a 3 minute job, no big deal, so you can use ANY standard 1911 grip. But I do list the Taurus 1911 separately.

I have grips for many of them listed on this website. If you have a Ballester-Mollina 45, or a LLama 45, or any of the many other brands that are more or less copied from the 1911 Colt, look up that brand instead. If you order a grip for a 1911 Colt, then that's what you will get, whether or not you actually have one! I'll be glad to exchange it for the right grip, but why not check first and save some shipping and time? It only takes a minute to measure between screw centers.

The smooth grips are available in three variations. The thin grips are slightly larger, square base, and are about as thin as will work with a normal screw. The medium grips are a little thicker, about like the average factory rubber grip, and have a bevel base. The thick grip variation is also a little taller and wider, for larger hands, and is square based (but it is easy to put a bevel at the base -- if you enter a note asking for a bevel base, I'll do it for you).

They are ideal for scrimshaw and carving, or can be fitted with medallions such as the Texas Star, Gold Cross, Indian Head Penny, Mercury Dime, Indian Head Nickel, or other special inserts.

You can select solid colors, or pearl colors (translucent), but not both. A pearl effect will over-ride the color choice; leave the color at natural ivory if you want one of the effects.

Color options may be seen on the main page.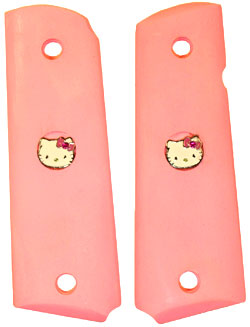 Medallions can also be installed. You can select one of our high quality, heavy silver-based medallions or send us yours to install. We do not provide trademarked gun company logos or emblems, as this is a violation of the manufacturer's trade mark and/or design copyright. If you send us your own logo to install, we can install it for you. We do not have gun company logos unless the logo is embossed in the original grip and is thus carried in the mold and transferred to the new grip.

However, logos or medallions other than round ones are not practical to inlet and fit into the grip without incuring high labor costs, so just send round medallions which will fit into a shallow round hole. The maximum diameter that will look good is about 3/4 inch. Anything smaller will look fine, anything larger will tend to stick up on the edges as it will be past the curvature of the grip.