This is a set of two small rectangular spacers about 1/8 inch thick, 1.125 x 1.0 inches (nearly square), which originally were built for using on the back of Star Fire M40, M43, and M45 pistol grips. They are also useful for other small spacer jobs, either on grip backs to prevent the grip from rotating, or for making white gun sight inserts and stock or knife handle inlays.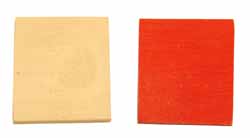 Better to order this with grips or some other items. Shipping then would be free (any number of grips or other items is sent for the same flat rate price if ordered together).

If you want a special color, or pearl effects, just give me a note and let me know. I will pour your spacers when I am making a grip of that color, so it won't cost you anything extra. (If I mix a batch of the resin just to pour spacers, most of it goes to waste -- I can't mix less than a certain volume at one time, and I only have about 30 seconds to get it poured before it starts to cure.) Without the note, you will receive ivory color.