This is an oversized generic blank grip set to make either a Colt Frontier Scout or a Heritage Arms Rough Rider grip for guns with larger frames than the standard grip made for those models. This grip also can be used to reshape and fit most frames which require a rather tall top portion.

The blanks are smooth, and have no holes. They are made so that YOU can use them either with or without screw holes, as you see fit and assuming your gun has a removable back strap for the 3-piece style kit (1-pc grip).

Please Note:

I do NOT install medallions, screws, or fit this to any tracings as it is a BLANK. It is NOT a semi-finished grip. You get two panels, left and right, as shown. Depending on whether you want the screw mount 2-piece kit or the 3-part kit which you epoxy glue together to make a one-piece grip, you will receive either a screw mounting kit or a spacer kit. Check the box above to tell me which one you want.

Gunsmiths and stockmakers are the largest users of this kind of generic "blank". Check the dimensions and make sure the grip you want to make will fit within them. These grips are extra thick, but can be sanded down to whatever thickness you prefer. They make excellent comfortable grips for people with large hands.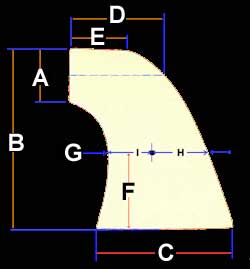 Dimensions:
(A)Height of front top vertical edge = 1.15 inches
(B) Overall height to base = 3.3 inches
(C) Width of the base = 2.4 inches
(D) Length of line joining center of front vertical to back = 1.65 inches
Width at a height of 1.8 inches = 1.6 inches
Thickness at top front edge = 0.35 inches
Thickest part of grip bottom = 0.65 inches