This is a large (over-sized) blank set of grips which can be reduced to fit any Freedom Arms large revolver (such as the M83). It also works well for nearly any copy of a long frame 1860 Army Colt, with proper trimming and sanding.

Check the dimensions of your grip against these specs, and if your dimensions are smaller in all directions, the odds are good you can turn this blank into a grip that will fit your gun. Or, send a tracing or template that fits your gun, indicating the screw hole location accurately, so I can trim this blank to match and save you some work!

Please Note:
If you want me to install medallions or mounting screw kit, you will need to send me a tracing or template to match. I have no idea where your particular gun might need the screw hole unless you indicate it on a tracing.

If you order this blank as a 3-piece kit to build a 1-piece grip, I can ship the two panels with a spacer, with or without a tracing to match. If you order this blank as a 2-piece kit with screw mount, and indicate that you do NOT need the mounting kit installed, then I don't need a tracing. But if you order it as a 2-piece kit WITH the medallions and/or screw kit installed, then I really do need to know the exact outline and screw location.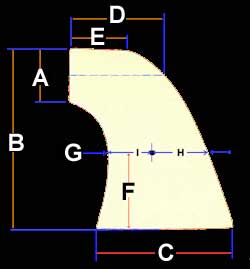 Height of front edge (A) = 1.1 inch
Overall height (B) = 3.5 inches
Width across the base (C) = 2.3 inch
Center of front edge to rear edge (D) = 1.9 inch
Width of top flat (E) = 1.2 inch
Narrowest distance across neck = 1.3 inch
Thickness at top = 0.348 inch (aprox)
Thickness at base = 0.58 inch (aprox)