This grip is made with four parts: two panels and two spacers plus one screw that holds it all together (in the default version).

The Hy Hunter brand was an import from J.P. Sauer & Sohn, Germany. Some of the Hy Hunter branded guns were also made by Herbert Schmidt of Germany. Hy Hunter was a gun distributor and dealer selling and promoting guns such as the American-made Great Western brand, and later selling guns stamped with his own name.

This derringer grip is modeled from a Jay Scott Model 44 grip, and is smooth with a single mounting screw. You glue the two spacers to the back of the grips using 5-minute epoxy glue, after fitting them to the gun. They align the grip panels and keep them from turning about the screw.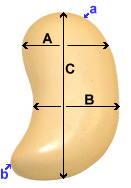 Distance from "a" to "b" on diagram = 1.9 inches
Distance from "b" to screw hole center = 1.2 inches
Distance from "a" to screw hole center = 1.1 inches
Line "B" length is 1.2 inches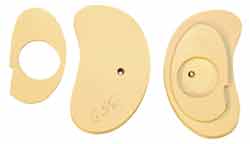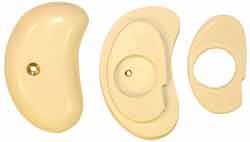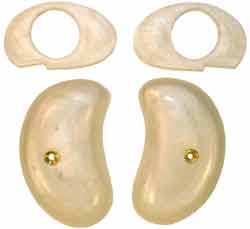 Check the dimensions and compare to your gun. If there is any doubt about the size, make a pencil tracing around your grips on s 3 x 5 index card and mail it to me. Mark the screw hole on the tracing also. I can use that to determine if these grips are large enough and the right shape for your gun. If you ask me "will this fit my XYZ model?" I have no clue. Gotta have the tracing to find out...too much variation in even the same models to try and guess.