The first practical .44 cartridge revolver, built originally for cartridge use only, was the Smith & Wesson American revolver. Introduced in 1870, it was an immediate success on the American Frontier. Enjoying the success of their new revolver, S&W made some technical improvements, and introduced the 2nd Model in 1872, producing nearly 21,000 revolvers by 1874. They were used by notables such as Cole Younger and Wyatt Earp.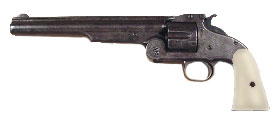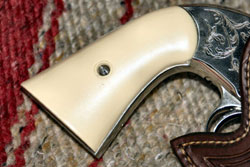 Dimensions:
Over-all height, basae to top, 3-inch
Height of front edge from base, 2-3/8 inch
Width of base, 1-7/8 inch
Height of screw hole center from base, 1-3/16 inch
Width across top "corners", 1-1/8 inch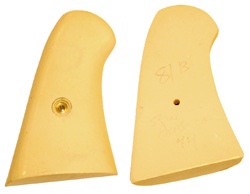 The top of the grip does not have steps like most pocket S&W pistols, K or N frame styles. The front and back edges change angle at the top. The top width is measured at the point where the curve makes an abrupt change.