This is a slightly larger version of the N-frame round butt grip, in a smooth finish version. It is ideal for translucent (pearl) effects.

Be sure to send a tracing or compare the dimensions carefully. If your grip frame is the same or smaller in all dimensions, then this grip should be fine. If your grip frame is larger in any dimension, then this grip won't fit. You can always send a grip down, to make it a little smaller. But it's pretty tough to sand one larger! (Use a 4-grit fingernail sanding board -- it's great for shaping and smoothing, then polishing the surface.)




If you need a slightly larger grip for your particular S&W N-frame revolver, consider the stag horn version which is just a bit larger (.05 inches or so).

This grip can be provided with no screw holes if you wish. The reason a person might want that is to fit it to a clone, a Spanish Eibar copy, or a different brand or model of gun that looks as if it might work with this grip, perhaps with a some modification. I often find that some unusual gun for which grips don't seem to be available will work with a more common grip, given a little time with a file and sanding board. But the grip screw holes probably won't be the same as they would be for the original gun for which the grip was designed.




The normal or default option is for the No.4 grip kit to be installed without charge. I also send an assortment of screw lengths, so you can select one that doesn't require any trimming for length (probably), and also so you will have some spares (even if some may need to be cut to length). If you order the grip and check the option to NOT install the screw kit, I'll still send the screw kit so you can do it. This is the same as with any grip listed that uses mounting screws, of course. You can have them installed (normal), or not (special option). I do not drill any holes unless you want the mounting kit installed. That way you can put the holes where your gun needs them. Even S&W revolvers don't have the screw in exactly the same place, so marking the hole location on your tracing is a good idea.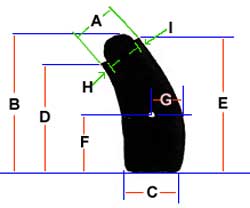 Here are the dimmensions to compare with your gun frame:
Height measured from rear top "ear" 90 degrees to base line = 3.15 inches (E).
Height from front top "ear" 90 degrees to base line = 2.4 inches (D).
Width across flat part of the base = 1.2 inches (C).
Width 0.2 inches above base, parallel to it = 1.40 inches (not lettered on drawing).
Height for measurement of the width approximately at screw hole position = 1.3 inches (F).
Width across entire grip, parallel to base, at height (F) above = 1.50 inches (G).
Width across entire grip, at above position, but measured at an angle giving the widest measurement = 1.55 inches.
Thickness at center of base = 0.40 inches.
Thickness at center of the top curve = 0.21 inches.
Width across top, ear to ear = 1.20 inches (A).
Width below the top, narrow part of the neck = 1.20 inches (same as top).
Height of round top from center of curve to a line joining the two ears = 0.35 inches.
Width of flat from front edge to start of top dome = 0.15 inches (H).
Width of flat from rear edge to start of top dome = 0.20 inches (I).