This grips fits the I-frames with extended frame size (or at last some of them! --check the measurements before you order). The dimensions are:
Front top corner to base: 2 inches
Rear top corner to base: 2-3/16 inches
Width across top corners: 15/16 inches
Rear corner to logo circle: 1/8 inch
Front corner to logo circle: 3/32 inch
Width across screw hole: 1-1/8 inch
Width of base: 15/16 inch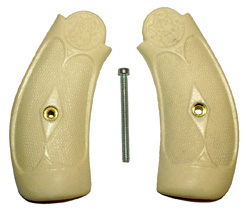 The best way to fit a grip to your gun is to send a pencil tracing around your existing grips. Or, make a cardboard cutout using index card paper, such that the outline just fits the gun where a grip should. That will provide the exact outline for the back of the grip.