This is another variation on the Smith & Wesson N-frame grip, for the 1917 revolver (but also may fit a number of other models that use the N-frame). It is a square butt design, and slightly larger than some of the other N-frame grips.

Here are the grip dimensions. Be sure to compare and measure your gun to make SURE this grip will fit. Or send a tracing of your grips, so that I can check it here.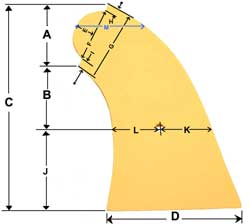 Width across base (D) = 2.15 inches
Thickness at base = 0.6 inches
With across top ears (G) = 1.3 inches
Base to rear ear height (C) = 3.1 inches
Base to front ear height (B + J) = 2.3 inches
Top dome to line across ears (E) = .35 inches
Front ear width (I) = .22 inches
Rear ear width (H) = .19 inches
Thickness near top = 0.25 inches
Please send a tracing indicating the screw hole location. Otherwise I must use the location which fits the average N-frame. It may or may not be right for your particular production version, but a tracing solves that problem easily.