This is a spacer which is placed between the gun's frame and the grip panel, to increase the effective thickness and also to allow a slightly smaller size grip to fit better on a slightly larger frame. It is about 0.170 inches thick (1/8-inch is 0.125 inches) but you can sand it to desired thickness by rubbing in circle motions on a secured flat piece of 180-grit sandpaper.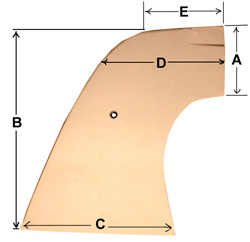 Top front edge height (A) = 0.91 inch
Overall height (B) = 3.07 inches
Width across base (C) = 2.23 inches
Middle of front edge to rear edge (D) = 1.81 inches
Top flat area (E) = 1.1 inches


The spacers are sold as a pair (2 panels) at the price shown. They have standard screw holes but since the spacer is only visible at the edges when installed, you can easily drill another hole to match your grips if these do not.

The edges are beveled so that a grip that is just a little small in width or height for a specific frame can be blended to a comfortable fit and pleasing appearance. Light edge sanding with a fingernail sanding board (medium and fine grit) is the easiest method I've found to shape and fit any grip to a frame, or to touch up the spacer so it matches the edges of the frame exactly.

You can order the spacers in pure white, ivory, black (ebony), or any other color you wish. The spacer is most attractive to me when it is a strong contrast to the grips rather than matching or slightly different shade or color. For instance, an ivory or aged ivory grip looks striking with an ebony spacer, or even a blue, red, green or purple spacer. A dark colored grip, such as a walnut burl or ebony, looks very nice with a pure white or an ivory spacer between it and the steel frame.

This spacer was designed for the New Vaquero or New Blackhawk but there is enough variation between example guns so that you should check the dimensions and not just rely on the model name -- apparently Ruger doesn't make them exactly the same shape and size as time passes, even if the model name doesn't get changed.

As always, if you send a tracing, I can see if your tracing matches or is slightly smaller than the spacer or grip you order. If you don't send a tracing, I have no way to tell what size your gun may actually be...yeah, I know it's SUPPOSED to be the same as every other gun with the same model name, but guess what! -that seldom happens. If you check the box saying you are NOT sending a tracing, I'll have to depend on YOU to check the dimensions listed and be responsible for ordering or not ordering depending if they match your gun. Bottom line is, don't get upset if you don't read the info, don't pay attention to what you are getting, and just buy because it "looks the same" in the picture and -surprise! -your gun isn't the same exact size. I really can't do anything about it without a tracing from you - it's so easy, just remove the grips from your gun, place them on a 3 x 5 inch index card and run a pencil around the outside, then poke a little hole through the screw hole to mark the spot on the tracing. Mail that to me (not fax it, not email a picture of it - send the real thing by mail so it isn't distorted by reproduction). I can cut it out and use it as a template. It's that simple.