This set of grips fits SOME of the Ruger Mark III 22/45 models -- the ones which have (surprise!) removable grips! Note that many of the 22/45 models had a one-piece molded lower frame that had fake or non-removable grip panels, even to the detail of having molded in fake screw heads! If you have one of these guns, you'll find out soon enough that the "grips" don't come off (but don't ruin the slotted "screws" by trying to turn them).

If your grips are indeed removable, such as the wooden model grips that obviously are not part of the plastic molding, then you can use these. There is little or no fitting generally required.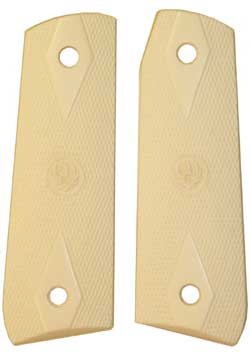 The grips are checkered, and have the Ruger logo molded into them. You can order another medallion to replace it if you wish, from the drop down menu above.

The grips use the screws which come with your gun. I do not have Ruger screws in stock but you can order them directly from Ruger if you need more.